TM is a brand of motorcycles some consider to be top of the line, while others haven't heard of it. TM bikes are built with craft and precision, and ProX has been working with them on parts development for multiple years. Here, we'll take a look at how TM has established itself as the high-quality brand it is today.
In 1976, two childhood friends named Claudio Flenghi and Francesco Battistelli, both with a common love of motorcycles and racing, after many years spent around the motorcycle world, decided to create an offroad motorcycle. In 1977, Flenghi ("Mr. Engine") and Battistelli ("Mr. Frame") decided to leave their previous occupations and combine their talents to create the first TM motorcycle in the town of Pesaro on the Adriatic coast of Italy. They chose the name TM by using the first letter of each of their son's first names (Thomas and Mirko), and the brand was off and running.
TM quickly gained a reputation for exceptional quality and high performance, and in no time the brand had established itself as a force to be reckoned with. A young rider from Pesaro named Gastone Serafini was chosen to help Battistelli develop the motorcycle and would go on to achieve successful race results. The TM brand gained even more recognition at the 1977 Milan Motorcycle Show, and as a result, manufacturing moved from Flenghi's small workshop to a new and more well-equipped factory located in the Pesaro industrial zone. During this same period, the Serafini family became part of the TM organization, and by 1978 the factory had produced 200 motocross bikes. In 1979 Tommaso Lolli was hired to work alongside Gastone Serafini to continue development, and in that same year, they built the first TM enduro bikes. In 1982 co-founder Battistelli decided to leave TM, and Gastone Serafini decided to join Flenghi full-time running the company.
Today, TM manufactures around 1,300 motorcycles per year, with around 200 of those making it to the American market. The brand has both two-stroke and four-stroke MX, Enduro, Flat Track, and Supermoto models; as well as shifter cart engines. Recently the brand entered MotoGP in the Moto 3 class, which limits engine size to 250cc. TM worked hard to expand its range of 4-strokes that now includes 250, 300, 450, and 530cc displacements. The brand is working especially hard to develop its 250cc, 300cc, and 450cc 4-strokes, and is currently fielding a Grand Prix Motocross team with riders Max Nagl and Samuele Bernardini participating in the 2018 MXGP series and also serving as development riders. The brand also has Eero Remes in the FIM World Enduro Series, and he is currently leading the E1 class championship.
In the United States, Ralf Schmidt of Gravity TM Racing USA serves as the importer for TM Motorcycles. Having moved to the U.S. from South Holland, Ralf not only imports TM in the USA, but also in the Netherlands. Ralf has been with TM for 20 years now, and worked his way from a dealer to importer. He's fielded national amateur teams in Holland, had an EMX 125 team, WMX world championship team, MX3 riders, and he still supports 300EMX GP riders. On top of all that, he started a team in the United States three years ago that supports upcoming youth riders in both offroad and motocross.
One of those upcoming riders supported by TM Racing USA is Bradley East, a desert racer from Hesperia, California. "Ralf recognized the hard work I had been putting in and the development achieved that he offered me a spot on his 2018 TM Racing USA Team," said East. "Last year Ralf provided a lot of support and assisted in my development as a rider. We were in the market for a new bike and liked all that the TM100 bike had to offer right out of the crate, and Ralf's dedication to the brand and sport."

Another rider, Robby Schott from Bakersfield, started as a TM customer in 2016, and won the first TM Racing WORCS title in the Supermini class that same year. Robby worked his way to the top of the 125cc class (2nd AMA expert in 2017), and he's currently racing a TM 250 2-Stroke in the WORCS Pro 2 lights, is leading the 250A class, and is 2nd in the Pro 2 class.
Says Ralf, "In motocross, we gave Luis Macias and Ethan Olsen the support needed to develop from C-level to B-level, and who knows what's the next step. Our Junior riders are killing it, and in 2017 we won both AMA National titles in Supermini 1+2 with Ty Masterpool. For this year we have a very strong line-up with Julian Beaumer (AZ), Noah Viney (CA), and Noah Gordon (AZ), and there is more talent on 85/100 bikes throughout the USA. It seems like TM Racing bikes are the hot item at the moment!"
"Offroad and Motocross are very important for us, and that's why we now focus on that," adds Ralf. "TM is dominant in Supermoto and Flat Track, but that's something we haven't had a chance to concentrate on yet here in the United States."
In addition to his support of racers, Ralf was an integral part of aligning ProX with TM as both a supplier and sponsor. "We started developing aftermarket parts with ProX in Holland around 2009," says Schmidt. "There was a lot of convincing I had to do, but it paid off, and we have been using ProX parts for our race team since 2009."
Click here to find ProX components for your bike.
TM is a true Italian boutique brand that takes pride in making exotic motorcycles that only few will have. A hallmark of the brand is its attention to detail, choice of materials, and selection of only top-quality outsourced components. Some would even go so far as to say obsessive in its quest for perfection. TM motorcycles are exotic works of art, machines that appeal to a small audience that wants a motorcycle that's as close to a factory machine as possible—right off the showroom floor. One such component supplier is ProX, and TM uses its connecting rods for their 250/300 2-stroke bikes, among other parts used across the brand, such as pistons, sprockets, and chains. ProX is proud to be associated with a brand known for its quest for engineering perfection.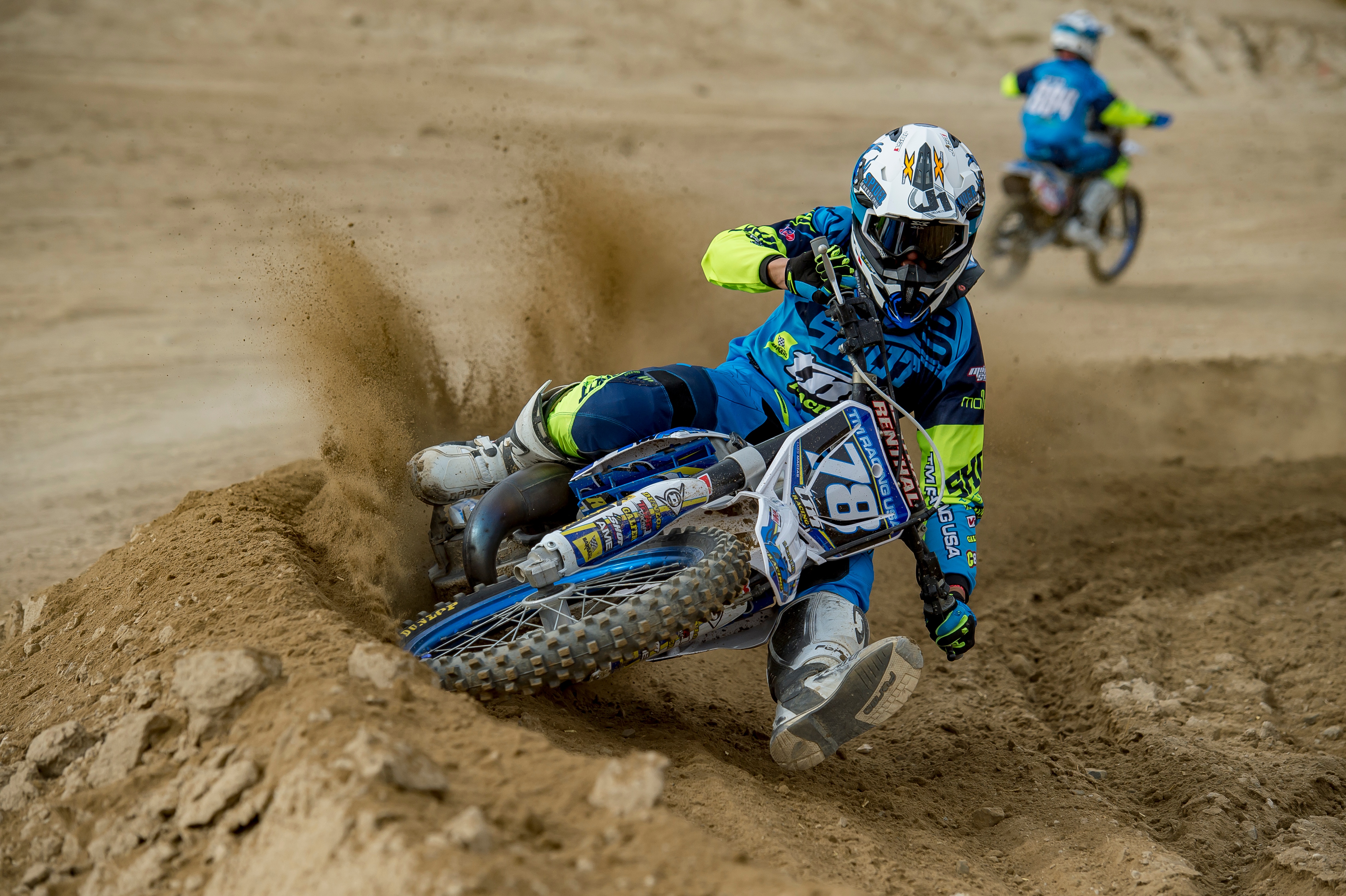 Just what does the future hold for the TM brand? "For such a small company it's amazing what they do, running three world championship teams on that level costs a lot of money," elaborates Schmidt. "TM does not have any huge investors behind them; it's a family-owned company with 70 employees. There are no plans to take over the world—just to build the best bikes in the world. We will always be the exotic bike—it's the Ferrari of dirt bikes—and that's a good thing. I see a chance we will be running an AMA Supercross and Outdoor Motocross team in a few years, and people will scratch their ears as to how it's possible that a little company from Pesaro, Italy can beat the Japanese and Austrian factory bikes in the USA." Only time will tell whether that's the case, but regardless, it will be fun to see what type of exotic motorcycles TM produces next.