We found a fellow racer on Facebook who had built a very impressive bike, and we had to know more about it. He was nice enough to set aside some time and give us information on his racing background and his one-of-a-kind machine.
Steven McQueen (yes, awesome name, but no affiliation) was born and raised in Western Australia by a family of racing enthusiasts. His grandfather raced TQs (more commonly known now as Formula 500 Sprintcar), and his dad and uncle raced sidecars in speedway for many years. McQueen comments "I spent a lot of my childhood traveling around Western Australia watching them race. They may not have been the fastest, but they always put on a show and had big parties (short clean version), so I guess I had no choice in being a bike and car nut."
Currently, McQueen swings on a speedway sidecar for his good friend Ricky Wright, as well as swinging on an F2 road racing sidecar with Simon Davies that's currently set up for the Isle of Mann (could you imagine manning a sidecar in the Isle of Mann??).
The race bike Steven built for himself is raced in the Supermoto club of Western Australia. He races in Open, Mini Motards, and Postie (stock engine) classes.
The machine he races the open class with started life as a 2008 YZF250. It now sits as a YZF290, with an impressive list of mods:
290cc Athena big bore kit
ProX connecting rod and crank bearings
ProX steel valve conversion (which were added because the stock Ti valves kept stretching)
ProX valve springs
ProX forged clutch basket, inner hub, and pressure plate
ProX clutch springs
ProX seals and gaskets throughout the motor
Wide ratio 3rd, 4th, and 5th gears from a WR250F
ProX chain and sprockets
YZF450 carburetor
Mototassinari airbox
K&N air filter
Custom wheels (17x3.5 front and 17x5 rear, both offset for clearance)
Michelin Supermoto tires (thanks to Steve's Motorcycles)
CLAKE 2 dual control (clutch and hand-operated rear brake integration) with hydraulic clutch conversion
Front brake upgrade (Beringer caliper, Brembo master cylinder, braided steel line, BRAKING rotor)
ProX rear brake rotor
Oversized radiators
Upgraded cooling hoses
Yellow and black custom plastics with custom Hurricane graphics from Ringmaster Images
Stepper seat insert
Slide Industries F&R axle slider kit
DRC Supermoto pegs
This is easily the most impressive YZF250 supermoto conversion we have seen. The attention to detail and focus on best combined performance and reliability is very respectable. Steven would like to thank the family at Steve's Motorcycles and Full-Bore Motorcycles in Midland, West Australia. These people played a big role in making his build possible.
ProX would like to give a big thank you for Steven for taking time to share his information and photos with us!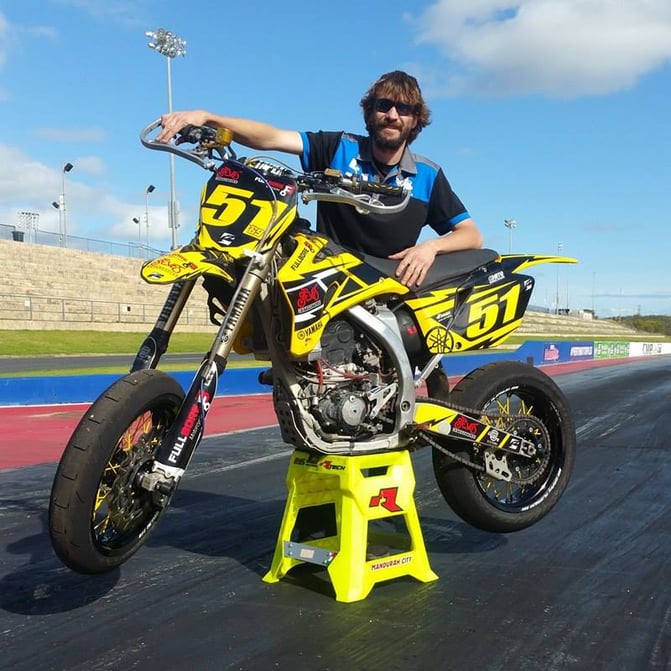 About ProX parts Steven chose for his build
ProX connecting rods are double-forged from Japanese steel, and are made by manufacturers that supply OEMS. They are shot-peened for additional strength, and provide strong reliability while maintaining affordability. Check out the full details ProX connecting rods here. ProX also supplies OEM quality bearings with their connecting rod kits, which are also made by OEM suppliers, so you know you're getting the same long-lasting reliability.
ProX also recognizes that while stock Titanium valves provide great initial performance, they do not stand up to long-term demands of racing, and will need to be replaced sooner. ProX's steel valves are a direct OEM fit, and are more durable than their Titanium counterparts, especially under stressful racing conditions.
ProX valve springs and clutch springs retain the stiffness needed for a properly function valve train, and a desirable feel of the clutch lever pull.
ProX seals and gaskets are also made by OEM suppliers to ensure OEM quality sealing will stay consistent throughout operation of the motor.
ProX chains are offered in everything from standard to gold, in normal, o-ring, and x-ring configurations. ProX chains and sprockets are by made a premium alloy manufacturer, and the sprockets are Teflon coated for added wear resistance. Many race teams have tested and loved ProX chains and sprockets for their durability and precise quality.
ProX also offers upgraded brake rotors and pads. Brake rotors feature a Cooling Edge Cut (CEC) design for better braking response and cooling. ProX brake pads feature a sintered, long-life material, bringing good braking performance to an affordable price level. Read more about ProX braking products.