ProX has had a successful motocross season around the globe, collecting a 250 MX Pro Motocross Championship and an EMX 250 MXGP Championship. Check out all the details here.
ProX Racing Parts collected championships both in the United States and in Europe when Adam Cianciarulo earned the Lucas Oil Pro Motocross 250 Class Championship at the STACYC Stability Cycles Ironman National in Crawfordsville, Ind., while Roan van de Moosdijk captured the European Motocross (EMX) 250 Class title at the Grand Prix of Sweden.
After coming up short in his bid for the Monster Energy AMA Supercross Western Regional 250SX Class Championship earlier this year, Cianciarulo used that motivation as fuel to earn his first professional title.
The jockey of Pro Circuit Racing's No. 92 ProX-sponsored Kawasaki KX250 came into the 12th and final race of the Pro Motocross championship tilt with a 30-point lead over Frenchman Dylan Ferrandis in the title chase.
With essentially 21 points separating him from his first professional title, the Port Orange, Fla. rider left nothing to chance by finishing second to Ferrandis in the first moto, thus locking up the championship prior to the second moto of the day.
"ProX has been a proud partner of Pro Circuit for many seasons now and we always believed Adam could win this championship," commented Mattijs te Riele, Sales and Marketing Manager, ProX Racing Parts. "Through testing and development with ProX parts and Pro Circuit's KX250s, we are proud that we have been able to contribute to a winning relationship and this very important championship. We are looking forward to many more successful seasons."
Check out the Pro Circuit Race Team here.
Over the course of the 24-moto summer schedule, Cianciarulo recorded seven moto wins, 16 runner-up finishes and 20 top threes. Moreover, the 22-year-old Factory Kawasaki racer never finished worse than fifth in Pro Motocross competition en-route to his first Gary Jones Cup.
While Cianciarulo knew he could have could have taken a more conservative approach to the final round and race to protect his point lead, he opted to exercise the same strategy that earned him six overall wins, including four to open the season, and 12 straight podiums.
"You have to go out there and ride and do what got you to the point you're at," said Cianciarulo. "You can't go out there and lower your expectations. I could have gone out there and went 9-9 and gotten the title but that's not the way I wanted to do it. I wanted to be aggressive. That's when I'm at my best."
On the European stage, Roan van de Moosdijk's F&H Kawasaki Team came into the eighth and final round of 2019 with an 11-point advantage, looking to close out their run at the EMX 250 Class title with a championship-clinching performance.
The Dutch rider took care of business in the first 25-minute-plus-two-laps moto, and despite surrendering several positions on the opening lap, raced his way into the top-two to finish second, besting title rival Stephan Rubini, who finished third.
With the championship still hanging in the balance in the second moto, the pilot of the No. 39 Kawasaki KX250 lost ground after taking evasive action to avoid being collected by another rider. Back in the throttle, now in 12th, van de Moosdijk showed a veteran's savvy and patiently worked his way back up the leaderboard.
As the laps clicked off and the final round wound down, the three-time 250 Class winner put in a gritty ride to come from outside the top 10 and eventually work his way to fifth. With Rubini and fellow title challenger Alberto Forato within his sites and the title all but locked up, van de Moosdijk was content to concede his spot inside the top five to come home sixth with the championship in tow.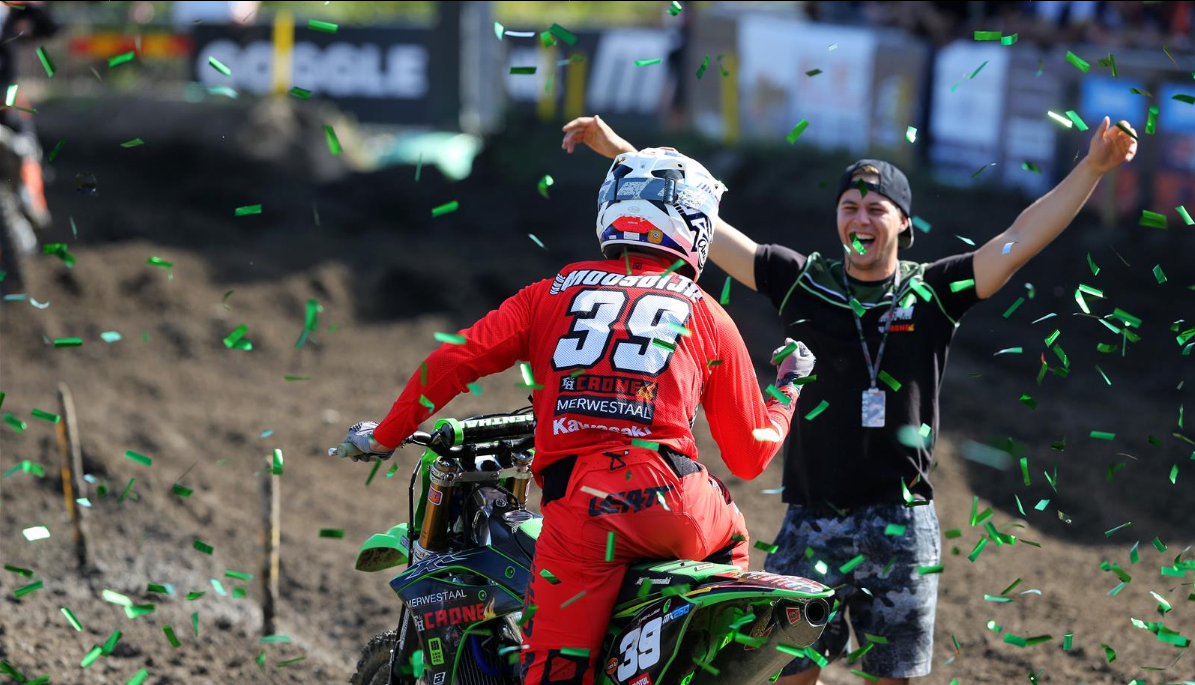 "Everything started as my father dreamt of racing motocross when he was young, but he never had the opportunity," said F&H Kawasaki team manager Nathalie Fase, via team press release. "We have advanced step-by-step, first in EMX 125, then EMX 250 and finally in the MX2 World Championship two years ago. We already had a couple of good results last year with our first GP podium and this year we have both riders (Henry Jacobi and Adam Sterry) in the top six and Roan van de Moosdijk claimed the European title two weeks ago so we're very happy,"
Next season, van de Moosdijk will shift his focus to MX2 where he'll also compete in this year's final two rounds starting this weekend in Turkey.
See more on F&H Racing Team here.
"Roan is moving up with us to MX2," continued Fase. "He already showed us what he is capable of in Portugal and it's important for him to race these two GPs to prepare for the future and discover what an overseas event is like. He has a huge potential, and for sure it's important for a Dutch team to have a Dutch rider racing with us as we have many Dutch sponsors."
"We would like to congratulate team F&H Kawasaki on earning the European MX 250 Championship with Roan van de Moosdijk," added te Riele. "After hours of hard work developing the bike and practicing at the track, they took home the championship in dominant fashion. ProX is very proud to be partners with F&H Kawasaki and we are honored to have had the opportunity to contribute parts and expertise to the team that has proven to be the best of Europe!"