A new, innovative era is emerging in the powersports industry, and the KTM group has been leading the charge in off-road motorcycles, supporting young riders with fully electric models from KTM, Husqvarna, and Gas Gas brands.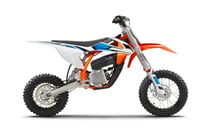 Despite the innovation of the next gen powerplants in these bikes, there are still many components on these machines that wear out with use. As specialists in performance replacement parts that bring value in both quality and price, ProX is proud to introduce our initial parts lineup for these exciting electric models, including:
Brake Rotors and Pads

ProX brake rotors are designed for linear braking while maintaining improved cooling and cleaning qualities. ProX brake pads are manufactured with sintered pad material, offering higher temperature resistance and better wear. Learn more about ProX brake components here

Drivetrain Components

ProX rear sprockets are offered in alloy and steel designs, both manufactured with CNC precision machining and designed to lengthen use life. Paired with a ProX front sprocket and Japanese steel-constructed ProX chain, you'll get a lot of use for a little money. Learn more about ProX chains and sprockets here.

Suspension and Chassis Bearings

ProX's bearing offerings are designed and manufactured to OEM standards and specifications. From swingarm to wheel bearings, they come conveniently packaged in a kit so you don't have to worry about ordering every little individual component.
All ProX's performance replacement components are designed to meet, or go beyond, OEM performance and quality without carrying the high price tag along with it. We're riders, racers, and enthusiasts too, and we're dedicated to keeping you on the track or trail more than in the garage or at the shop!
Check out the complete list of ProX Electric applications and part numbers below.
Order from your favorite dealer, online parts supplier, or give us a call!
US: 440-951-6600
Europe: +31 (0)252 687 713