ProX takes pride in supporting the sport of motocross at every level and has been a part of the Loretta Lynn's Amateur Championships for years. 36 Loretta Lynn Championships have been awarded this year, read on for all the details!
Official release from MX Sports, click to see original. Photos by Christian Munoz.
HURRICANE MILLS, Tenn. (August 6, 2019) – After a week of world-class amateur motocross racing, 108 motos at the 38th Annual Rocky Mountain ATV/MC AMA Amateur National Motocross Championship presented by Lucas Oil, concluded on Saturday, August 3, in Hurricane Mills, Tennessee at the historic Loretta Lynn Ranch. Thirty-six new National Championships were crowned, along with several athletes being presented AMA specialty awards.
Husqvarna's Jalek Swoll, who earned the Open Pro Sport National Championship after going 1-3-1, captured the coveted Nicky Hayden AMA Motocross Horizon Award. This award is given to the A-class rider who shows the most promise as they prepare to enter the professional ranks.
The AMA Motocross Amateur Rider Award was presented to Yamaha-backed rider, Jarrett Frye. This award is designed to recognize an outstanding non-A-class rider who is ready to make an immediate impact in the A-class competition. Frye earned the honors with his National Championship in the Schoolboy 2 (12-17) B/C class and 3-3-1 finishes in the 250 B class.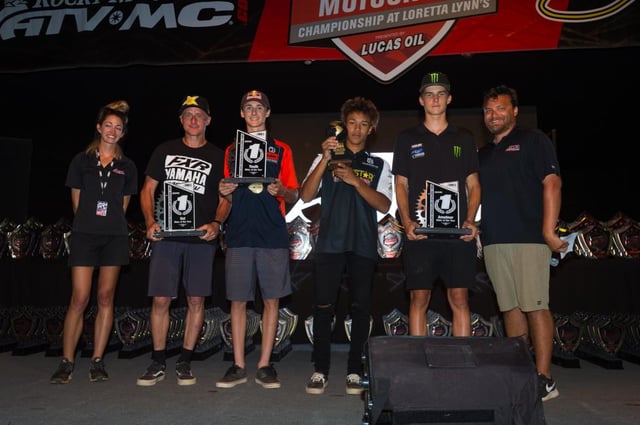 The AMA Motocross Youth Rider Award is designated for a rider under the age of 16 chosen for his or her performance in the Youth classes at the AMA Amateur National. This year, KTM Orange Brigade's Maximus Vohland earned the notable award after clinching the Supermini 1 (12-15) and Supermini 2 (13-16) titles.
The AMA Motocross Vet Rider Award is given to an outstanding rider over the age of 30. Results from all Vet classes are taken into consideration when selecting a winner. This year, Michael Brown proved that he was once again a front-runner by earning five of six-moto wins in the Junior (25+) and Senior (40+) classes.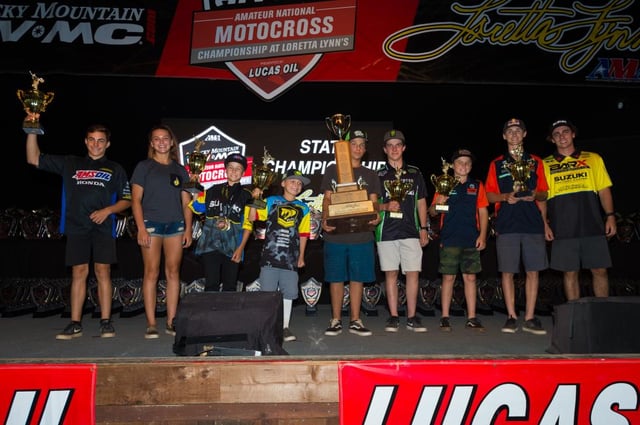 Continuing their reign, California added another State Championship award by having the most racers out of any other state to win overall titles. California claimed 11 National Championships between Stilez Robertson, Dylan Cunha, Hunter Yoder, McCllelan Hile, Ryder Ellis, Landen Gordon, Haiden Deegan, Maximus Vohland (2), Jeremy Ryan and Mikayla Nielson.
Returning to the Ranch was On Track School. On Track School is the recipient of a donation in honor of Dave Coombs Sr. made by Rita, Carrie, Tim and Davey Coombs. Students who apply have the opportunity to be awarded with scholarship funds toward post-secondary courses at a college of their choice. If you are a Motocross Athlete, you should apply by June 21, 2020. Click Here to apply. To learn more visit, https://racerxonline.com/2018/08/06/on-track-school-chosen-to-receive-dave-coombs-sr-scholarship-fund. For 2019, Bailee Garner and John Hartman surpassed the rest of the applicants and will be enrolling in one of the On Track School educational programs for 2019-2020. Accompanying the scholarship award was the twelfth annual On Track School Graduation Ceremony where all alumni were recognized for their academic achievements.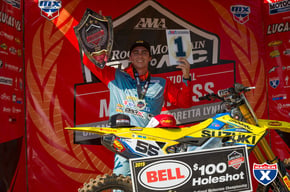 RacerTV.com provided an unprecedented 40+ hours of LIVE race coverage throughout the week, resulting in over 637,300 live views across Livestream and Facebook Live. The archived footage is now available for viewing HERE. In addition, two one-hour highlight shows featuring the event will air on NBC Sports Network on Saturday, November 30, 2019 and Sunday, December 15, 2019 at 4:30 p.m. EST.
Complete results from the 2019 National Championship can be found HERE.
MX Sports wishes to thank everyone who participated in the Loretta Lynn National program, and congratulates all the 2019 Champions on their accomplishments.
2019 AMA Amateur National Motocross Champions
Open Pro Sport
Jalek Swoll
Belleview, FL
250 Pro Sport
Hardy Munoz
Culloden, GA
250 B
Stilez Robertson
Bakersfield, CA
250 B Limited
Mason Gonzales
Fort Walton Beach, FL
250 C
Dylan Cunha
Moesto, CA
250 C Limited
Derek Leatherman
New Oxford, PA
250 C Jr. (12-17) Limited
Cameron Harrison
China Spring, TX
450 B
Matthew LeBlanc
Breaux Bridge, LA
450 B Limited
Hunter Yoder
Menifee, CA
450 C
Tyler Foster
Culloden GA
125 C
Hunter Nitsch
Skaneateles, NY
College (18-24)
McClellan Hile
Atascadero, CA
Junior (25+)
Michael Brown
Bristol, TN
Vet (30+)
Nicholas Hayes
Chester, VA
Senior (40+)
Michael Brown
Bristol, TN
Senior (45+)
John Bowlin
Battle Ground, WA
Masters (50+)
John Grewe
Rockford, MI
Women
Jazzmyn Canfield
Cape Coral, FL
Schoolboy 2 (12-17) B/C
Jarrett Frye
Mechanicsville, MD
51cc (4-6) Special Limited
Kade Nightingale
Mounds, OK
51cc (4-6) Shaft Drive LTD
Braxton Baldock
Liberty, KY
51cc (4-6) Limited
Bode Bradford
Midland, TX
51cc (7-8) Limited
Ryder Ellis
North Fork, CA
65cc (7-9) Limited
Caden Dudney
Athens, TX
65cc (7-9)
Landon Gibson
Peachtree City, GA
65cc (10-11) Limited
Landen Gordon
Atascadero, CA
65cc (10-11)
Luke Fauser
Midland, PA
85cc (10-12) Limited
Daxton Bennick
Morganton, NC
85cc (10-12)
Haiden Deegan
Temecula, CA
Mini Sr 1 (12-14)
Nicholas Romano
Bayside, NY
Mini Sr 2 (13-15)
Nicholas Romano
Bayside, NY
Supermini 1 (12-15)
Maximus Vohland
Granite Bay, CA
Supermini 2 (13-16)
Maximus Vohland
Granite Bay, CA
125cc (12-17) B/C
Gage Linville
Lake Park, GA
Schoolboy 1 (12-17) B/C
Jeremy Ryan
Morgan Hill, CA
Girls (11-16)
Mikayla Nielson
Riverside, CA
For more information on the AMA Amateur National, visit the series official website at www.mxsports.com or call (304) 284-0101. Join the conversation on the event's social media channels, along with receiving the most up-to-date news and exclusive content.