ProX Racing Parts has an ever-evolving range of product lines for a constantly growing list of applications. ProX takes pride in ensuring all parts are manufactured to the highest quality standards at many of the same manufacturing facilities OEM parts are made. Having parts manufactured through these reputable OE suppliers allows ProX to confidently offer factory performance and durability at a more attractive price.
Beta has long been impressing riders and racers with their wide model range of dirt bikes not just in Europe, but around the world. ProX is proud to support Beta riders with a variety of performance replacement parts now available.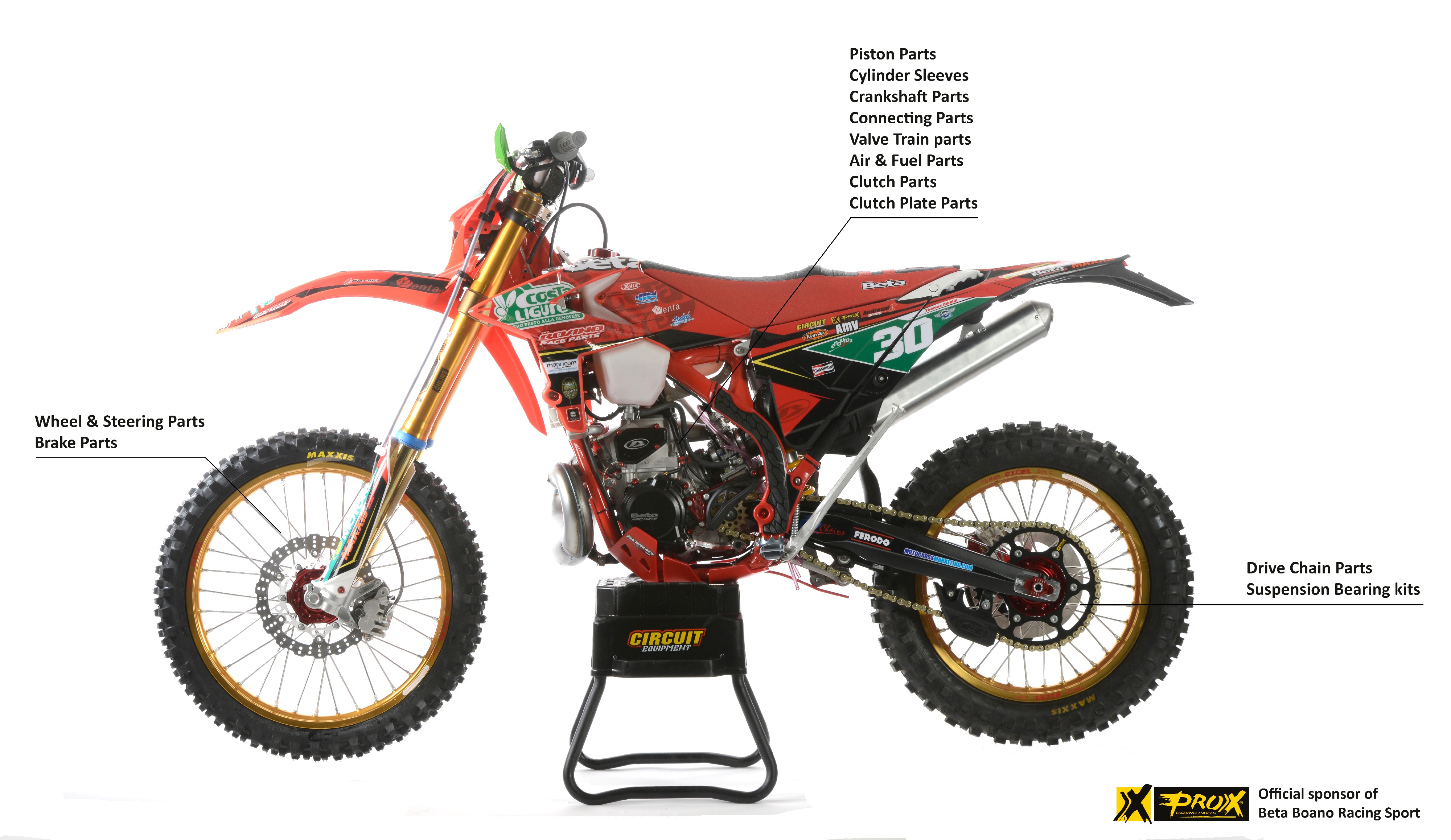 Here's a quick overview of the plethora of parts offered from ProX for popular Beta models.
ProX Racing Parts Beta Program Overview
Top End:

Piston Kits - High Compression
Piston Components - Rings, Pin, Clips
Cylinder Sleeves

Bottom End Components:

Main Bearings
Bearing and Seal Kits
Oil Seal Sets
Connecting Rod Kits
Big End & Small End Bearings
Big End Pin
Thrust Washers

Valve Train Components:

Cam Chain
Valve Shim Assortment
Valves
Valve Seals

Air/Fuel & Filters:

Air Filter
Oil Filter
Main Jets
Pilot Jets

To see more on ProX air filters, click here!

Clutch Components:

Clutch Spring Kit
Friction Plates
Steel Drive Plates
Clutch Pack Kits

Wheel, Steering, and Pivot Bearings:

Front & Rear Wheel Bearings
Steering Bearings
Swingarm & Linkage Bearings
Upper & Lower Shock Bearings

Braking Components:

Front & Rear Brake Pads
Front & Rear Brake Rotors

ProX brake rotors are designed for cooler functioning brakes. ProX brake pads are made from sintered material, offering high stopping performance and long life. Read more about ProX brakes here.

Final Drive Components:

Front Sprockets
7075-T6 Alloy Rear Sprockets
Ultralight Steel Rear Sprockets
Rear Sprocket Bolt Kits