From cruising trails with buddies to serious off-road and on-track racing, ProX sprockets have delivered impressive durability, especially in steel construction. ProX steel rear sprockets have been proven in highly demanding racing situations, including worldwide Enduro as well as GNCC and Hare and Hound in the U.S. While they last beyond what may even seem possible sometimes, the main disadvantage for steel has always been the extra weight in comparison to ProX aluminum sprockets.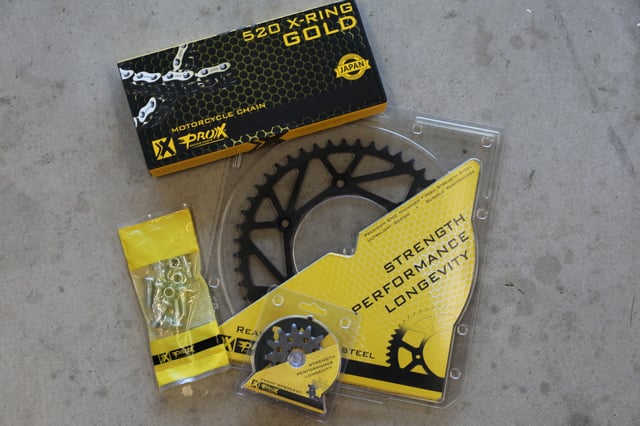 ProX engineers set out to revise the steel sprocket with the goal of achieving the best of both worlds - the extreme durability of ProX's steel construction with the advantages of less weight.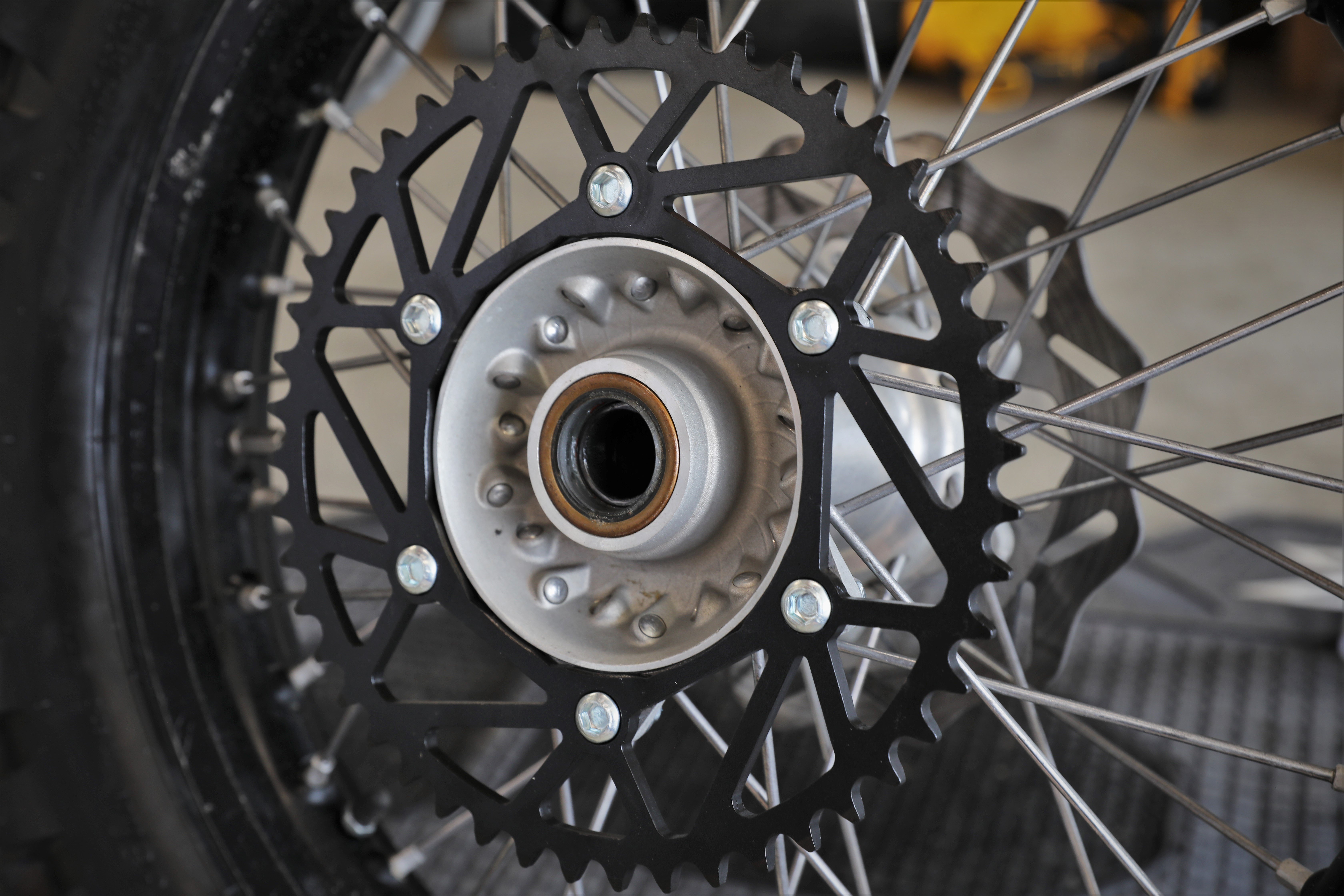 An all-new, lightweight design gives ProX Ultralight steel rear sprockets up to a 35% weight savings over other standard steel sprockets. The high-strength, steel construction provides superior longevity even in extreme riding conditions, ultimately translating to 2 to 3 times the usable life compared to average aluminum sprockets.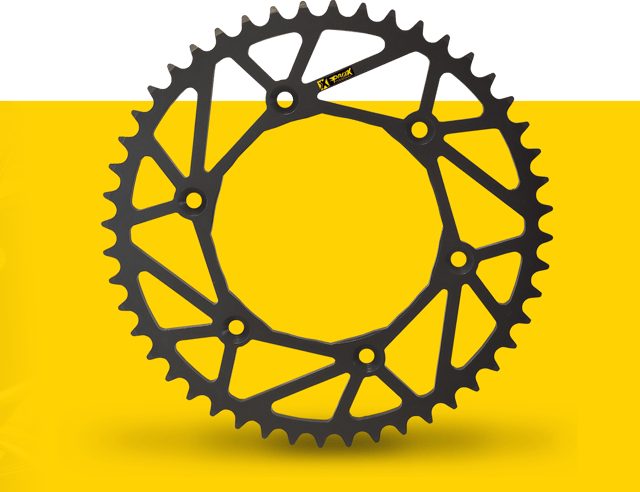 ProX Ultralight sprockets are CNC-machined to exact specifications to achieve the precise, lightweight design and exact fitment. Additionally, a diamond cut manufacturing method holds sprocket teeth to diameter and alignment tolerances, ensuring even and smooth operation.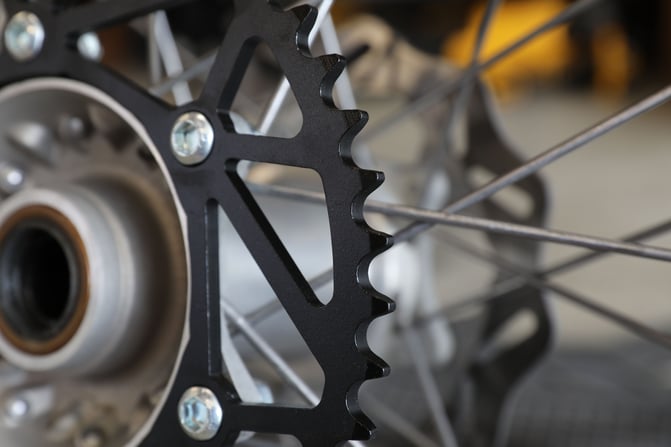 Reliable, flush sprocket-to-hub mounting is achieved with countersunk, tapered mounting holes, pairing perfectly with a set of ProX sprocket bolts and lock nuts. These sprockets are also treated with a full coverage coating for added corrosion and wear resistance, plus a factory look.
ProX Ultralight steel sprockets are offered for a wide range of dirt bike applications in all popular sizes.
Purchase from your favorite e-tailer or dealer, or contact us to order directly in the US!

Find your Ultralight sprocket part number below.
Make

Models

Years

Part No.

Size

Beta

RR 125 - 498

2013 – 2022

07.RS73013R-48
07.RS73013R-49
07.RS73013R-50
07.RS73013R-51

48T
49T
50T
51T

Honda

CR125R, CR250R,

CRF250R, CRF450R

1987 – 2022

07.RS12087R-48

07.RS12087R-49

07.RS12087R-50

07.RS12087R-51

07.RS12087R-52

48T
49T
50T
51T

52T

Husqvarna

CR/W 125 – 360

1990 – 2013

07.RS62097R-46

07.RS62097R-47

07.RS62097R-48

07.RS62097R-49

07.RS62097R-50

07.RS62097R-51

07.RS62097R-52

46T

47T

48T
49T
50T
51T

52T

Husqvarna

TC85

2014 – 2022

07.RS61003R-46

07.RS61003R-47

07.RS61003R-48

07.RS61003R-49

07.RS61003R-50

07.RS61003R-51

46T

47T

48T
49T
50T
51T

Husqvarna

TC/FC/FE 125 – 501

2014 – 2022

07.RS62090R-48

07.RS62090R-49

07.RS62090R-50

07.RS62090R-51

07.RS62090R-52

48T
49T
50T
51T

52T

Kawasaki

KX 125/250/250F/450F

1987 – 2021

07.RS42080R-47

07.RS42080R-48

07.RS42080R-49

07.RS42080R-50

07.RS42080R-51

07.RS42080R-52

47T

48T
49T
50T
51T

52T

KTM

85/105 SX

2003 – 2022

07.RS61003R-46

07.RS61003R-47

07.RS61003R-48

07.RS61003R-49

07.RS61003R-50

07.RS61003R-51

46T

47T

48T
49T
50T
51T

KTM

125 – 530 SX/XC/EXC,
SX-F, XC-F, EXC-F

1990 – 2022

07.RS62090R-48

07.RS62090R-49

07.RS62090R-50

07.RS62090R-51

07.RS62090R-52

48T
49T
50T
51T

52T

Suzuki

RM-Z 250

RM-Z 450

2007 – 2022

2005 – 2022

07.RS32080R-48

07.RS32080R-49

07.RS32080R-50

07.RS32080R-51

07.RS32080R-52

48T
49T
50T
51T

52T

Yamaha

YZ 125/250

WR250

1980 – 1998
1990 – 1998

07.RS22080R-48

07.RS22080R-49

07.RS22080R-50

07.RS22080R-51

07.RS22080R-52

48T
49T
50T
51T

52T

Yamaha

YZ/WR 250/400/426/450F

1998 – 2022

07.RS22099R-47

07.RS22099R-48

07.RS22099R-49

07.RS22099R-50

07.RS22099R-51

07.RS22099R-52

47T

48T
49T
50T
51T

52T