ProX Racing Parts is excited to introduce brake discs as the latest addition to ProX's wide range of ATV parts offerings.
ProX's current line of high-quality brake discs for dirt bikes have earned an impressive reputation of performance and affordability. These brake discs are now available for many popular ATV models, sharing the same manufacturing and design standards as their dirt bike counterparts.
ProX brake discs are manufactured from specially-hardened, premium quality stainless steel. The proprietary, Cooling Edge Cut design is achieved through CNC operations, offering responsive braking performance as well as optimal cooling and cleaning qualities thanks to integrated venting slots. Combined, these features deliver linear braking and lessened brake pad wear.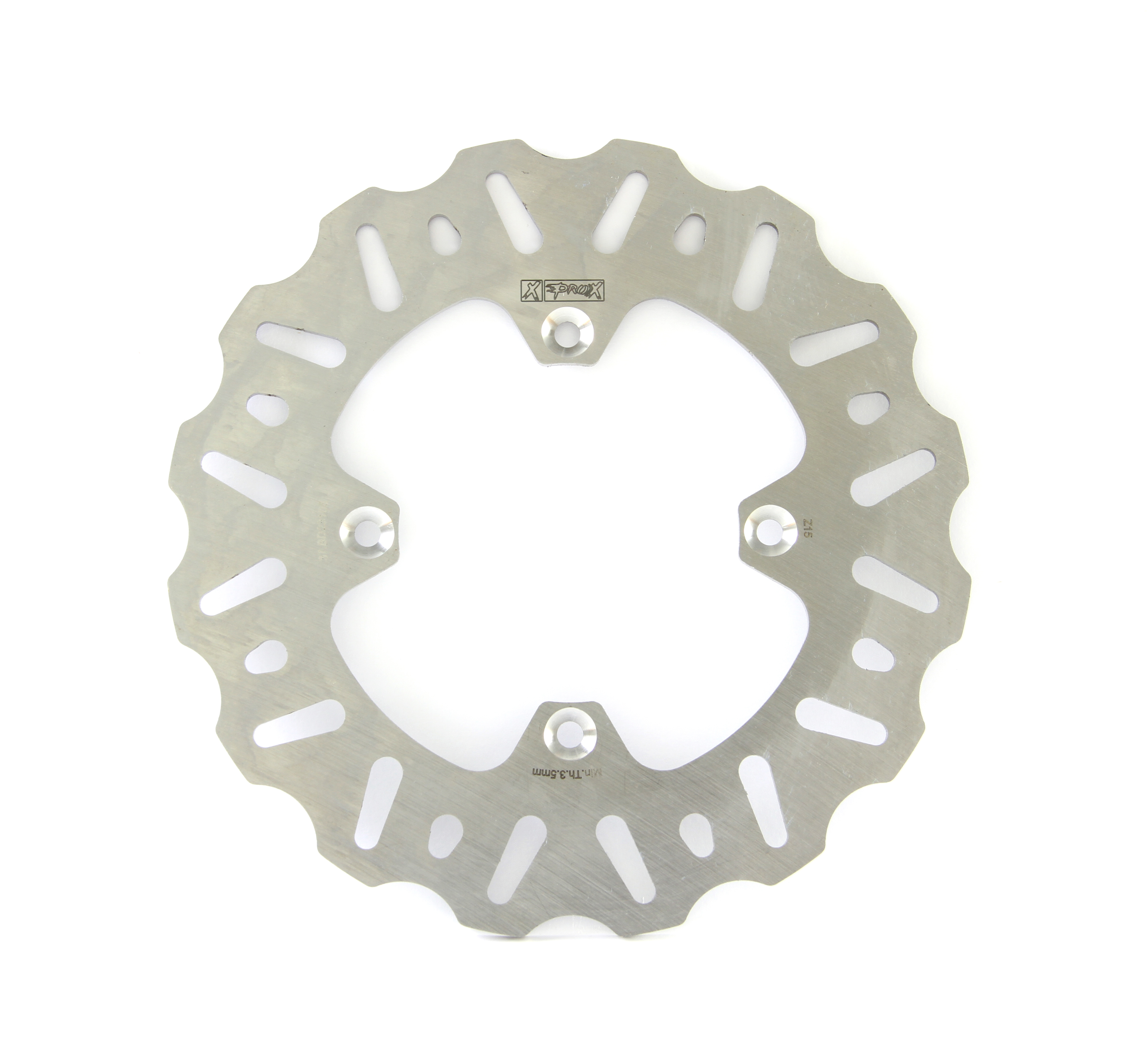 Want some tips on brake maintenance? Check out our guide here!
As a valuable feature for ATV riders, ProX brake discs are designed with no direction of rotation, which means that front brake discs are compatible for replacement of both the left and the right sides.
Complementing the brake discs, ProX brake pads are made with a sintered material that mate well with the surface of ProX brake discs, providing a long life of braking performance. ProX recommends using ProX pads with ProX discs.
The ProX Racing Parts ATV brake disc line offers an unmatched combination of OEM—or better—braking performance and affordability.
Need to bleed your brakes? We show you how, here!

ProX ATV Brake Disc Applications
HONDA BRAKE DISCS

Model ATV

Year

Front

Rear

TRX 250 R

1988-1989

37.BD11404

-

TRX 250 X

1986-1992

37.BD11404

-

TRX 250 EX

2001-2008

37.BD11404

-

TRX 250 X

2009-2014

37.BD11404

-

TRX 300 EX

1993-2008

37.BD11404

-

TRX 300 X

2009

37.BD11404

-

TRX 400 EX

1999-2008

37.BD11404

37.BD21409

TRX 400 X

2009-2014

37.BD11404

37.BD21409

TRX 450 R

2004-2009

37.BD11404

37.BD21404

TRX 450 ER

2006-2014

37.BD11404

37.BD21404

TRX 700 XX

2008-2009

37.BD11404

-

SUZUKI BRAKE DISCS

Model ATV

Year

Front

Rear

LT 230 Quadsport

1985-1988

37.BD13402

-

LT 230 E Quadrunner

1987-1993

37.BD13402

-

LT 250 R Quadracer

1985-1992

37.BD13402

-

LT 250 S Quadsport

1989-1990

37.BD13402

-

LT-Z 400

2003-2013

37.BD13402

37.BD21409

LT-R 450

2006-2011

37.BD13406

37.BD23406

YAMAHA BRAKE DISCS

Model ATV

Year

Front

Rear

YFM 125 R Raptor

2011-2013

-

37.BD22208

YFM 200 Blaster

1988-2002

-

37.BD22602

YFM 200 Blaster

2003-2006

37.BD12409

37.BD22602

YFM 250 R Raptor

2008-2013

37.BD12409

37.BD22208

YFM 350 X Warrior

1988

-

37.BD22602

YFM 350 X Warrior

1989

37.BD12409

37.BD22602

YFM 350 X Warrior

1990-2004

37.BD12409

-

YFM 350 R Raptor

2005-2013

37.BD12409

37.BD22208

YFM 350 Wolverine

1995-2006

-

37.BD22602

YFZ 350 Banshee

1987-1989

-

37.BD22602

YFZ 350 Banshee

1990-2001

37.BD12409

-

YFZ 350 Banshee

2002-2006

37.BD12409

37.BD22602

YFZ 450

2004-2005

37.BD12409

37.BD22208

YFZ 450

2006-2014

37.BD12409

37.BD22409

YFZ 450 R

2009-2019

37.BD12409

37.BD22409

YFM 660 R Raptor

2002-2005

37.BD12409

37.BD22602

YFM 700 R Raptor

2006-2019

37.BD12409

37.BD22409