Rather than provide a breakdown of Jason Thomas' Husqvarna TC125 two-stroke, we figured that we should let the three-time Grand National Cross-Country Champion explain his own setup. The native of Machylleth Pow, Wales, United Kingdom, won the very first XC3 125 Pro-Am title in 2017. He is back in 2019 to contend against kids half his age. Thomas not only sheds light on racing a 125cc two-stroke for three hours, but also a myriad of other interesting topics that all off-road riders can learn from. Enjoy!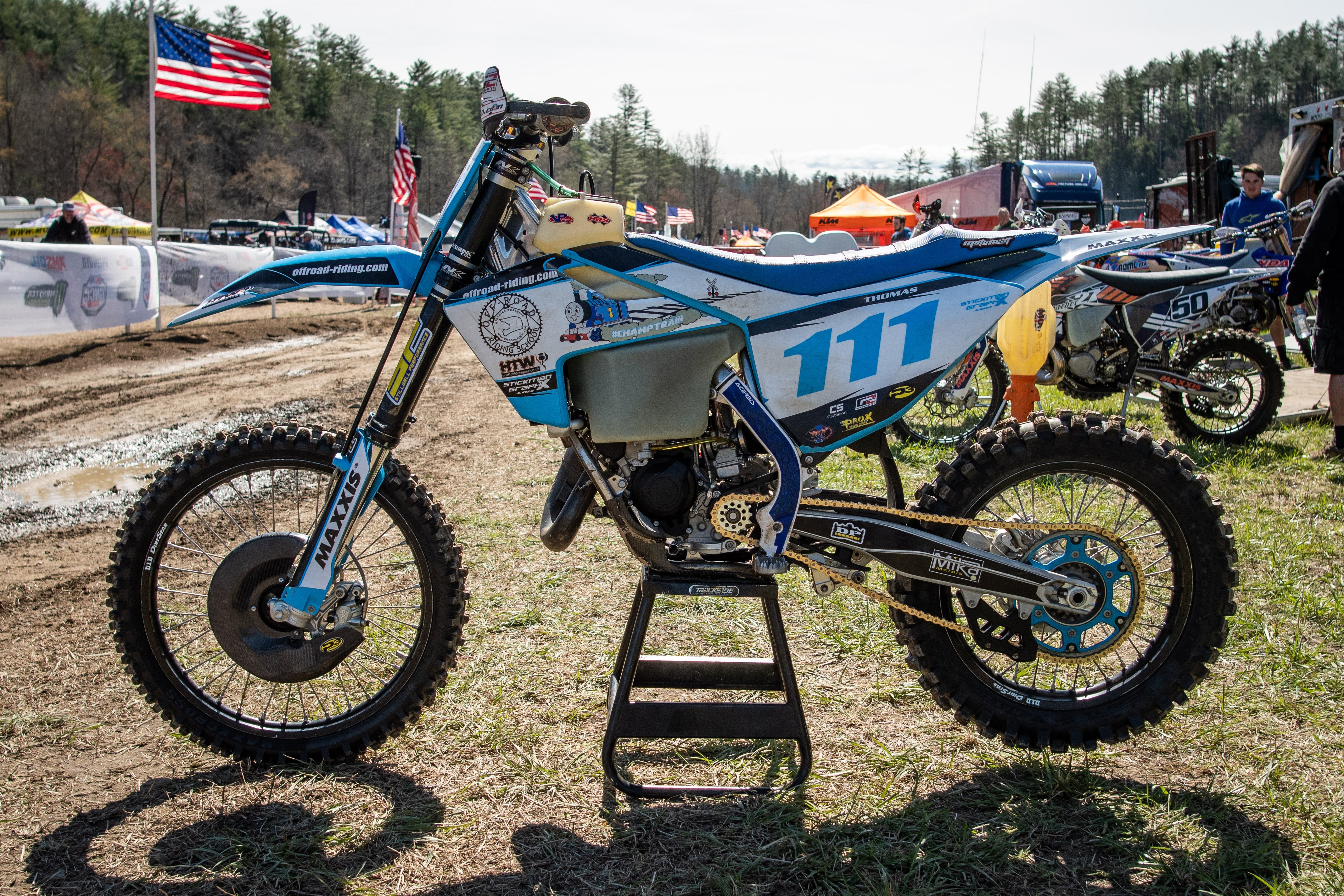 On the Introduction of the New XC3 125 Pro-AM GNCC Class
Thomas: The organizers called me before they decided to do the XC3 class. I thought it was a cool idea. I grew up racing 125cc two-strokes. There needed to be something to bridge the gap, because kids seem to skip that step anymore of racing a 125. I knew it was going to be a class that would be talked about, and there was good support right away. It's fun to ride a 125. I quickly learned that it's fun to ride a 125cc two-stroke for 30 minutes, but after that it's rough. Let's get that straight! It's not fun at all to ride one for three hours. The XC3 class does create a buzz, and there are up-and-coming kids involved in it. Deciding to race the XC3 class for 2017 gave me spunk to race again, and I figured it would be challenging. That's what drew me to it. It's basically a laid-back Pro class.
On Racing A 125 Two-Stroke for Three Hours Versus a 250 or 450 Four-Stroke
Thomas: Riding a 125 for three hours is absolutely brutal. I presume that the top kids who are going to come out of the XC3 class at the end of this year and jump up on a 250 four-stroke will be very good. The 125 is especially difficult to ride in the last hour. The bike bounces around a lot. You have to be perfect with throttle and clutch control the whole time. You can get away with those things in the last hour on a 250 four-stroke, because the bike will kind of ride itself for you a bit more. The 450 is even more forgiving late in a race. Depending on the track conditions, it can be insanely difficult on a 125. The sand at the first round at Wild Boar this year was rough. A 125 doesn't like the rocks, because the bike bounces around. For some reason, though, a 125 works extremely well in mud races. In 2017, I finished seventh overall on a 125. That was out of every single Pro rider. People seem to think that was a big achievement. In reality, the 125 is lighter. It kind of floats on top of the wet stuff, even when mud sticks to the bike.
We can all imagine riding a 125 through GNCC terrain would be brutal, but Jason makes it look pretty easy.
On the Engine Modifications Made to his Husqvarna TC125
Thomas: I don't even know what the rules for the XC3 class are, to be honest. As far as engine modifications, pretty much everything internally is from ProX. There's the ProX connecting rod kit, bearings, and twin-ring piston. The cylinder has been ported and polished. There's a Rekluse TorqDrive clutch and VForce reed cage. The engine is mainly ProX parts, other than some polishing.
Read more about ProX connecting rod kits HERE. Find ProX parts for your machine HERE.
Thomas: I know for a fact that the two top kids in the class have full-blown race engines with ceramic bearings and all kinds of stuff in them. The Beta is a factory bike, so that has a lot of things done to the engine. My bike runs right with them, and as I said, it mainly contains ProX parts. I started running their parts in 2017. They are very reliable, and that's the key to winning this championship. It's all about having the confidence that the bike isn't going to blow up, and knowing you can ride the thing to death. That makes a big difference.
On Service Intervals for GNCC Racing
Thomas: The piston rings get changed every race, and that's really more of a precautionary measure for me more than anything. We change out the piston every two races. I don't think the service intervals really need to be that often, because the parts don't wear that much. I just put them in for precaution. We put a ProX connecting rod in at the beginning of the year, and I run that same crank for the whole season. It's reliable enough to do that.
Jason runs the same ProX connecting rod kit in his crank all season, and he changes the piston and rings as precautionary maintenance.
On Bike Setup Particulars
Thomas: I'm not really picky as far as the motor. I am more focused on the jetting. My suspension settings are very particular. I have been working for Stillwell Performance for around six years now. The only other thing that's very specific are my handlebars. I like to run a very low and straight handlebar bend. I run my rear brake pedal really high, or so people tell me. I don't do anything funky other than that. The area I really spend a lot of time on is the carburetor. The jetting has to be spot-on for every race.
On Whether Thomas Cuts His Handlebars
Thomas: I do not cut my bars. I talk about the topic of cutting the handlebars to make them narrower for tight sections a lot at my schools. I do not recommend doing it, because it changes the stability of the bike and makes riders drop their elbows. It's something that used to be popular at National Enduros. I don't think anyone does it anymore.
On His Preferred Suspension Setup
Thomas: I like the forks to be very plush, soft on the initial part of the compression and to go pretty stiff through the stroke. I don't want my forks to bottom out. I like the bike to sit with the rear higher than the front end. That's because I turn the bike with the front wheel. I'm hard on the front brake and easy on the rear brake. I'm not hard on clutches. Everything is done through the front-end of the bike, which seems to be a lot different than the riding style of many American riders. The shock is pretty basic. Again, I like the initial part of the stroke to be very plush and soft. I tend to bash into things, which is why I don't want the shock to bottom out. I like a smooth feel, so it's soft at the beginning part of the stroke.
On How Thomas' 2017 XC3 125 Pro-AM Championship Stacks Up Among His Other Accomplishments
Thomas: That title in 2017 was special, mainly because Jack Edmondson was there, and he was coming off the back of a World Championship. We battled at the beginning of the year, and I eventually started beating him. It wasn't an easy championship. There's no such thing as an easy championship. How does it compare to the two XC2 Championships? It's up there, kind of. The one race that really stands out and makes me proud is the mud race on the 125 where I finished seventh overall. I showed the capabilities of the bike, as well as of myself. Other than that, the year didn't really stand out. However, it was good to achieve. I beat factory riders on a stock bike, which was fun.
You can learn more about Jason Thomas and his accomplishments by visiting www.jasonthomasracing.com or by following him on social media.
IG: @jasonukthomas