Shelby Rolen is a 29-year-old Professional Racer, from MX to GNCC. A 5-year ProX rider, Shelby speaks on everything from her introduction to dirt bikes to her recent accomplishments in racing.
Most people generally follow the basic game plan for life. Earn an education, join the workforce, and look forward to the day when they can finally enjoy the fruits of their labor. Shelby Rolen doesn't fall in this group. In the great words of Frank Sinatra, "I've lived a life that's full. I've traveled each and every highway. And more, much more than this, I did it my way." Rolen has very much done it her way. The 29-year-old gave up a life of pageantry, a desk job, and what she calls "boredom" to pursue her dream of being a professional motorcycle racer. We caught up with the multi-discipline racer from Blaine, Tennessee, to talk about women's racing, GNCC versus motocross, aspirations, and much more in this telling interview.
How did you get introduced to dirt bikes?
Rolen: My dad always rode motorcycles. He wasn't a racer and really wasn't that athletic. My mom, on the other hand, was an athlete. I was always playing sports and around dirt bikes growing up. However, I was terrified of my dad's motorcycle when I was really young. Every time he started the bike I would cry and run away [laughter]. Then, when I was about to turn seven years old, my parents asked me what I wanted for my birthday. I told them that I wanted a motorcycle. Of course, they thought I was joking, because I wouldn't even sit on my dad's bike. They decided to buy me a bike anyway, thinking that I would probably never touch it. Well, I rode the bike around the yard, and that was enough to get me hooked. I told my parents that I wanted to race like the guys that my dad watched on the television. We went to Muddy Creek in Tennessee, and it was way too big for the Yamaha PW50 that I had. I was brought back to the pits on a four-wheeler, because the track was so deep. I informed my dad that the PW50 wasn't a race motorcycle, and that I wanted one of those orange [KTM] or yellow [Cobra] bikes to go faster. He bought me a KTM 50SX the next day. I've been racing ever since, which is 22 years and counting.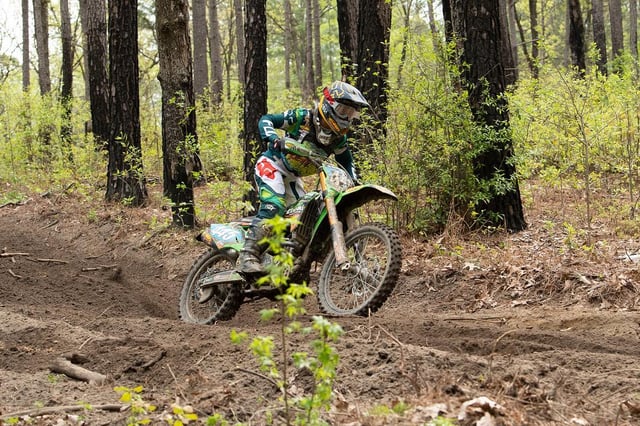 Were your family and friends shocked that you dove head-first into motorcycles?
Rolen: I was doing pageants at the time. I was a full-blown national-level pageant girl. I actually have national championships from winning pageants. These weren't just local pageants at the town community center. We traveled all over the country for them. There were the super expensive dresses, with hair and makeup done every weekend. I had fake hair, fake eyelashes, and a fake tan. I also played softball. I was a cheerleader. I did figure skating and gymnastics. I felt like I was born to be an athlete, but I got bored with everything that I did. Not to toot my own horn, but I was very good at those things. One of the things that attracted me to dirt bikes was how difficult it was to ride and go fast. I was clueless. Yet I fell in love. I chose a sport that wasn't going to help me get a scholarship to college [laughter], but I didn't care.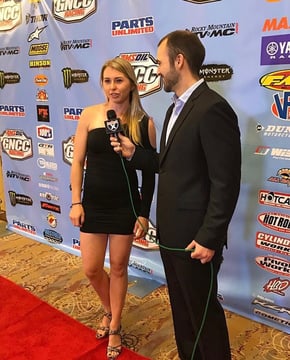 You have made a name for yourself by not only racing motocross, but also off-road events. How do you balance the difficulty of racing Women's Motocross (WMX), Grand National Cross Country (GNCC), and also competing in Sprint Enduro?
Rolen: I just want to be good on a dirt bike. I might not be the very best at any one of those disciplines, but I want to be good at everything I can be good at. I like the challenge. I believe I was the first girl to attempt to race the WMX series and the GNCC series. I think Mackenzie Tricker and I did it in the same year, but I've continued to try and accomplish that. There are other things I would like to try. If Endurocross ever came back to the East Coast I would definitely give it a shot. I just want to ride my dirt bike. I guess I'm crazy [laughter].
Racing obviously occupies a lot of your time. What do you do for work?
Rolen: I'm a substitute teacher in elementary school. I work in the same county as my mom, although not always at the same school. I enjoy the job and find it rewarding. What's great about substitute teaching is that I can come and go as I please. There's a system where I can call the district and let them know that I'll be out of town for a certain amount of time, and I'll be taken off the call list. I'm not going to get fired for not being home. Since early March I have spent more nights in my camper than I have in my own bed at home.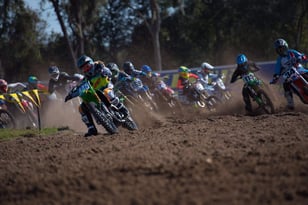 How often do you ride?
Rolen: My riding schedule varies. During the winter and summer months I train full-time at South of the Border in Hamer, South Carolina. I ride five days a week and train in the gym for four days a week. I work during the spring and fall, and also travel a lot to go racing. I have a small woods loop and turn track in my yard at home. I usually ride that one or two days a week. It depends on how often I go to the races.
You recently made a change in manufacturers. Why did you switch to the Kawasaki KX250 four-stroke?
Rolen: I had been with Kawasaki since the end of 2014, and then last year I moved to a Suzuki. The people at Suzuki gave me a great opportunity, which I appreciated very much. Suzuki had a really great contingency program for the WMX series last year. When the WMX series was dropped for 2019, there really wasn't an opportunity to make any more money on a Suzuki. I made the decision to go back to the Kawasaki for 2019. I just love the Kawasaki KX250. I feel at home on the bike.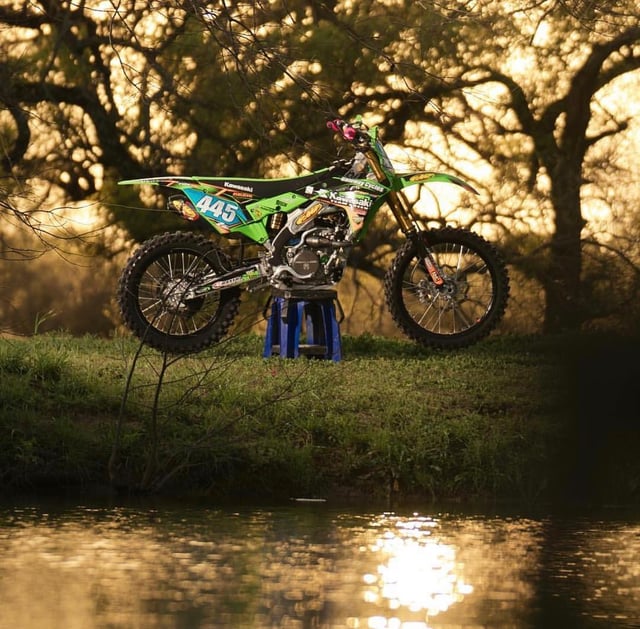 Is there a big difference in your bike setup between racing GNCC off-road and WMX?
Rolen: I actually ride my practice bike at the GNCC and Spring Enduro races. My suspension is set up a little bit softer than my motocross settings, but I don't even use a big tank for off-road. Most people run an 18-inch rear wheel, but I stick with the standard 19-inch wheel. The only real changes I do to my bike between the two types of racing are that I'll go a few clicks out on my suspension and run a Rekluse auto clutch for off-road. This year we'll probably put a big tank on and turn my practice bike into the motocross bike, because I'm going to be doing so much woods racing. Regardless of the discipline, I run a ProX chain, sprockets, cam chain, hour meter, air filter, and rear brake rotors. I started with ProX at the end of 2014. The relationship has been great. They are super helpful.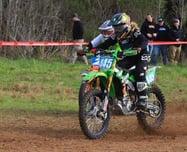 Click here to find ProX components for your bike or Click Here to read more about ProX chains!
Last year you finished 8th overall in the 2018 WXC class, with a second-place finish at round seven at the John Penton GNCC. You also won your first Women's Motocross National and placed third at Loretta's. Was 2018 a dream year for you?
Rolen: I accomplished a lot of things that I wanted to achieve last year. I got my first ever GNCC WXC podium. I also won my first WMX race. At the same time, I honestly wasn't happy with finishing eighth in the WXC points standings. I missed the maximum number of throw-away races due to scheduling conflicts with the WMX series. Then, at two of the GNCC races, I had technical issues and couldn't finish. There was so much going on last year. I was second in the points standings for the WMX series for the second year in a row. I had some breakout rides in 2018, but I want to push harder this year and get back on the WXC podium. Another goal is to get a podium in a Sprint Enduro.
News broke during the off-season that MX Sports was dropping the seven-round WMX series and condensing it down to a one-race class at the Loretta Lynn's Amateur National Championship. What are your thoughts on the change?
Rolen: They're calling the Loretta's race as WMX, but you still have to go to an area and regional qualifier to get in. There's no license required to race the event. Hearing the news that they were going to turn it into a one-race amateur class at Loretta Lynn's was heartbreaking. I worked closely with MX Sports to try and keep WMX alive and growing. I understood that the racing participation wasn't there, but it didn't change all of my years of work to try and grow the sport. I feel like I'm missing a huge piece of my life. I raced WMX since 2010. It's gone, and I can't do anything about it. I miss WMX, but I'm doing my best to focus on the few motocross races that I am going to do. There will be more competition at Loretta Lynn's this year, because the professionals and amateurs are racing together. There are some fast girls who never decided to race WMX. The competition will probably be fiercer than when I was racing WMX. It doesn't change the fact that I'll wake up in the morning and hear, "Welcome to this or that amateur event," versus thinking that I'm racing WMX today. That's why my focus has changed. WXC in GNCC is still a professional class. Sprint Enduro still has a professional women's class. I worked my whole life to get that accreditation.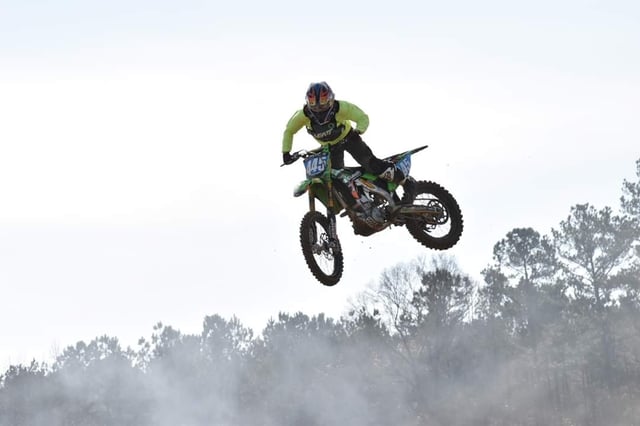 Speaking of Loretta Lynn's, rumor has it that you're working to achieve a very unique goal. Can you shed light on it?
Rolen: Yes. I want to qualify for the men's 30-Plus class at Loretta's. Ever since I was on a mini bike I never attempted to qualify in a men's class. If I could make that happen it would be a refocus on motocross. It will give me something to be excited about. Like I said, I want to be good on a motorcycle. This is a bucket list item. Other girls have accomplished it, but I have never done it. This is one of those things that would be cool if people can look back thirty years from now and say, "Wow, Shelby Rolen was good on a dirt bike." Even if I never win any major titles, I want to have an impact on women's racing. My objective is to make women's racing better for the next generation.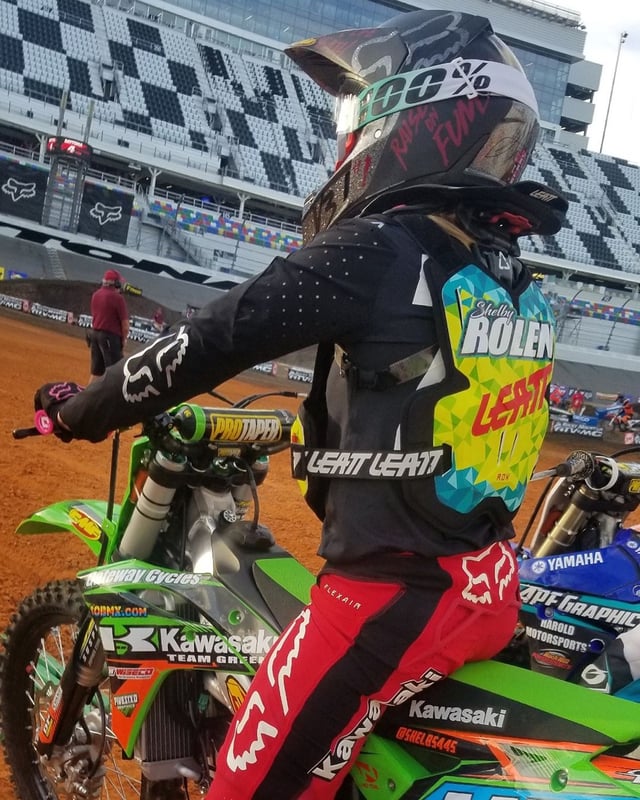 What advice can you offer to aspiring women racer?
Rolen: Don't give up. Make your own opportunities, and don't let a lack of opportunity slow you down. Make your own goals. Do anything you can to help women's racing grow. Represent yourself in a professional manner, even if you're a young girl. These young boys are showing up to the races, and they're little professionals. If you want to race as a female and be good at it, do the same thing for yourself. Show companies that you're capable of presenting yourself in a professional manner just like the men are. Also, always do your best. Don't give up on yourself, or the sport for that matter. Women's racing may be at a low right now, but it can make a comeback. Don't let a lack of opportunity shape your attitude about the sport or your love for it. That's pretty much what I'm doing. I have a heart for racing. I wasn't that good on a mini bike. I struggled really badly, but I always wanted it. Set your goals and don't give up. If I had listened to my family and my friends, I would be at some desk job right now. That's not what I wanted, so I somehow made it happen.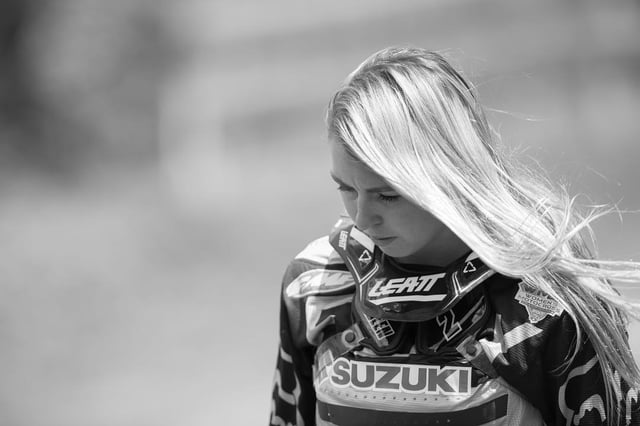 Lastly, who would you like to thank?
Rolen: I couldn't do it without Kawasaki Team Green, Gateway Cycles, ProX, Wiseco, Fox, Leatt, 100 Percent, Asterisk, FMF, No Toil, Evans Coolant, Cometic, Maxima, Rekluse, Works Connection, South of the Border MX, Five Six O Graphics, Cycra, DP Brakes, Zilla Grip Tape, Thrill Seekers Collection, Motorola, MX Tire, and Ice Cream and More. Special thanks to my parents and family, who have helped me so much!
If you would like to follow Shelby Rolen on her racing journey, give her a follow on her Instagram page (@shelbs445).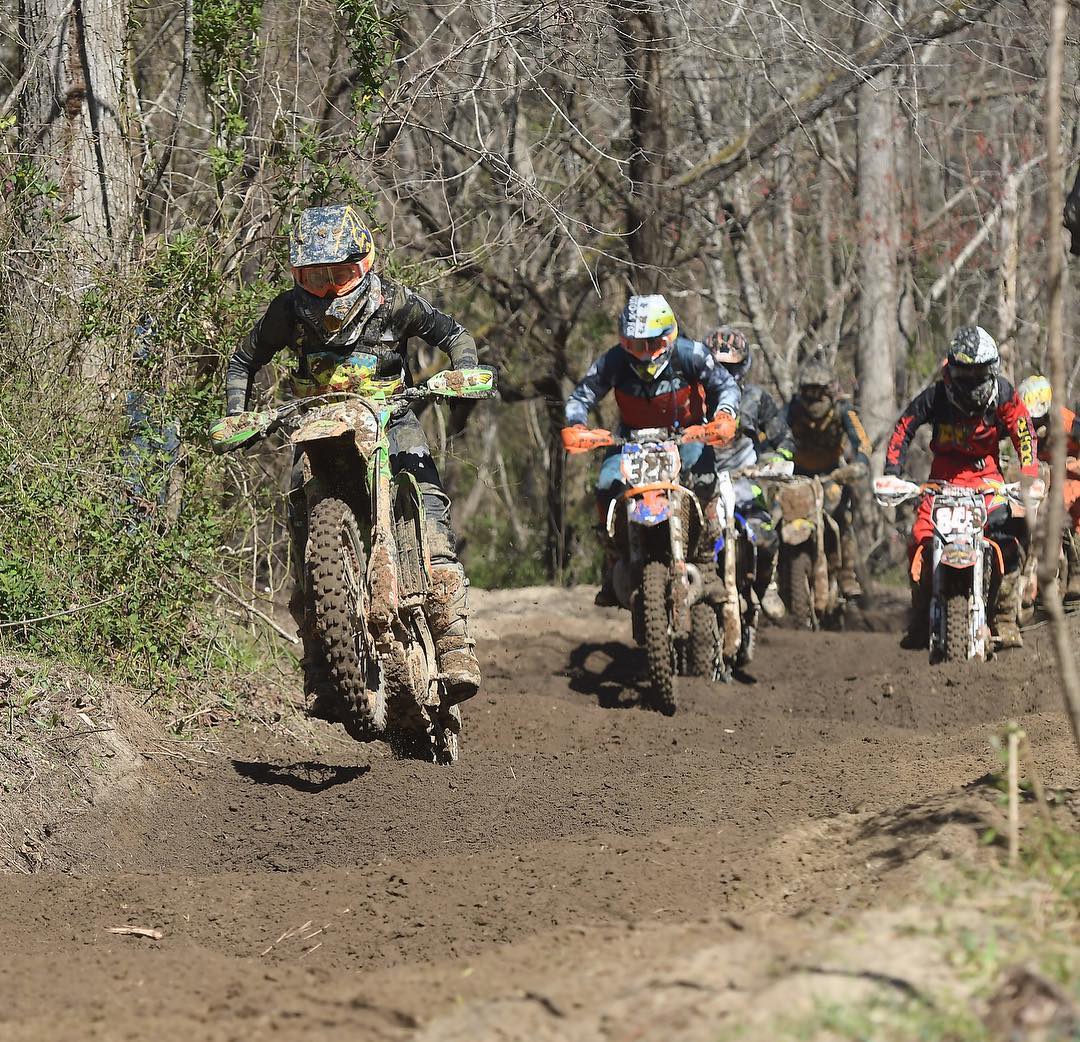 Photo: Ken Hill